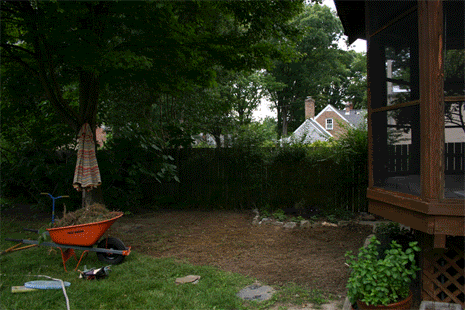 So the mud pit turned out to be the final hurrah of a patio-less back yard. I couldn't take it any more, and with a mini family gathering on the 4th looming, I really, really wanted to be able to put the table and chairs on a decent and relatively level surface. Not to mention the whole vanity of the situation. Welcome to my bog? Not so much.
Dan had Friday the 3rd off and I spent all day - I mean, ALL day - loosening dirt and snipping small roots and cursing at big ones.  Ok, all day except the hour or so when I got really distracted by fig branches that needed pruning, and then got annoyed at all the dead wood in the fig tree, and just had to prune all of it out, and assign tasks to woodchoppers and debris haulers and such.  But mostly all day.  I came in at 9pm with a clean sidewalk and a patio that was perhaps five-sevenths of the way done.  Disappointing.  And stiff, and sore.  Ow.  Headed back outside at 8am on the fourth and banged it out in an hour, right down to moving some indoor plants outside for the summer and giving some of them new pots to live in.
Oh, and I'm EATEN UP by mosquitoes. 
And we didn't even eat outside on the 4th!  But at least the patio is done.  Sortof.  It's an amateur job, eventually it will need redoing, and Reese seems determined to dig it up again.  Hopefully I can get some mosses to start growing and lock the rocks into place (not to mention covering up the dirt, NO MORE MUD!).
And yes, you know I set up a tripod and took progress photos.  You wouldn't expect anything else, right?  (Argh, stupid zoom lens, I left the tripod in place overnight but accidentally zoomed a little before putting away the camera at night, so the morning ones don't match up.)
This was it for fireworks for us that day - we opted to share some sparklers (kindly given to us by our next-door neighbor, Mary, how did she know I was wishing for some) and then put the kids to bed.  Perhaps next year we'll head to the Carillon for the big show. 
Voila, patio!  Who wants to hang out?